Barrel cuisine like no other…
During the particularly sunny Central Otago summer of 2008, whilst entertaining guests and friends on the banks of the beautiful Kawarau River, two men faced with a fire ban were in search of a way to cook without an open fire.
They needed something self-contained and all they had was an old wine barrel. Wild Earth Vineyard owner and commercial diver Quintin Quider, along with Stormalong Stanley from Stewart Island went to work making the first version of what was about to forever change the way they cooked outdoors.
They chopped the barrel, used a makeshift heat source, added some wood chips, and threw some water in the bottom to protect the barrel from burning. They smoked and steamed fillets of salmon and freshly caught seafood, tasting a unique oaky flavour.
Right away they knew they had discovered a cooking method like no other, and since then, many wine barrels have been transformed into patented, unique stoakers which now serve our many guests from our busy outdoor kitchen. These Oak wine barrels are fully mobile for weddings, catering and special events and are the engine room and uniqueness behind our brand, The Stoaker Room.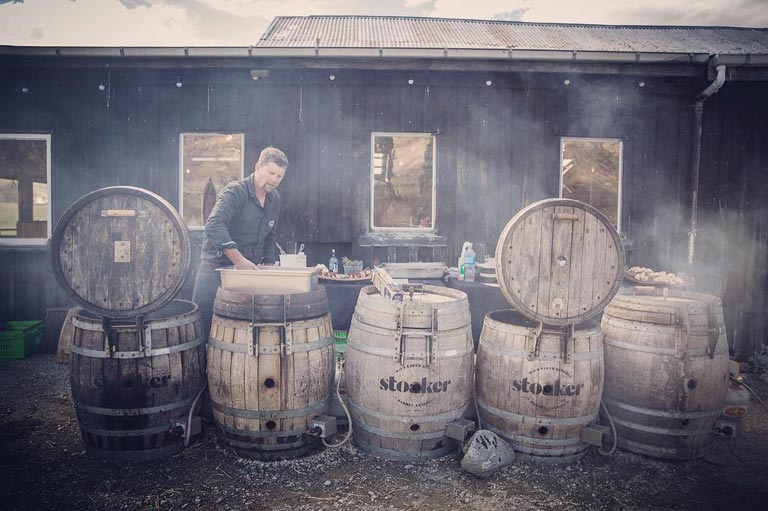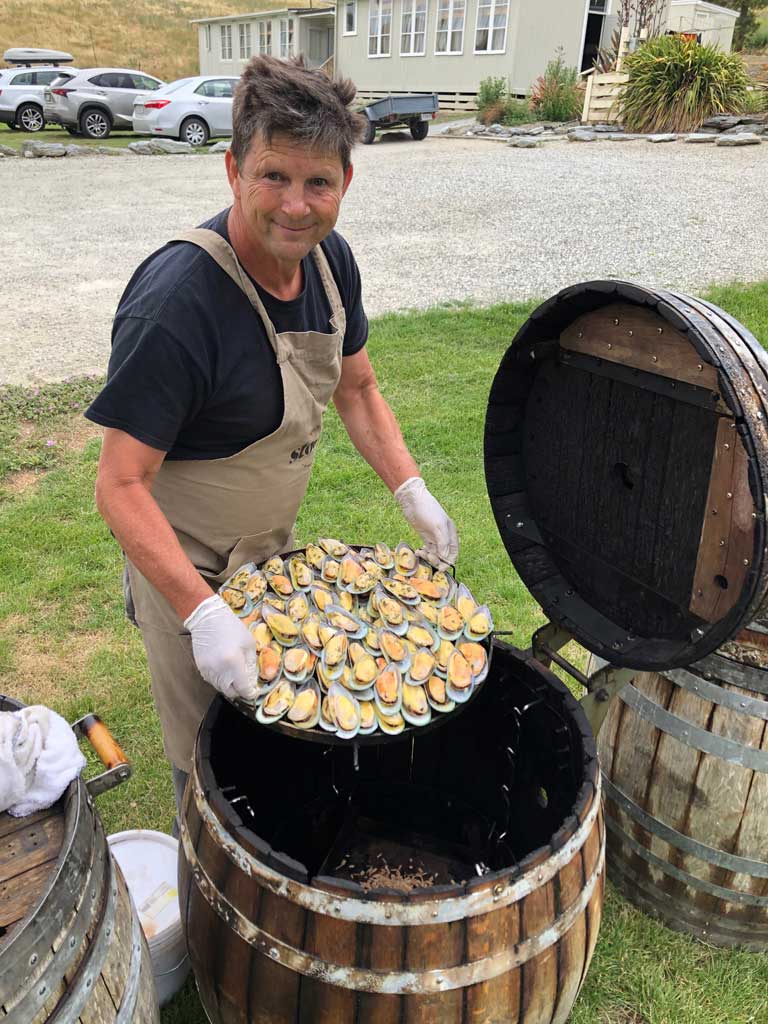 Quintin Quider – founder & director
It was the sea and not the land that originally lured Wild Earth Wines and Stoaker Room owner Quintin Quider to New Zealand. Being a commercial diver, he fell in love with the South Island's rugged landscape, but most of all with its people, which inspired the move from South California to Stewart Island.
Food and wine were always a passion, so developing a bond with Central Otago Pinot Noir was an easy, natural, next step. After a series of ear problems Quintin decided to hang up his wetsuit and begin his next journey, Wild Earth Wines.
Never one to turn his back on a challenge, he grew and developed Wild Earth Wines into an award-winning brand and opened his Wild Earth Restaurant near Cromwell.
Now, Quintin would love you to be part of his next great adventure. He and partner Sue have recently opened The Stoaker Room Bistro and Bar where eager fans are drawn to the relaxed ambience, the great food and wine, all simply crafted for sharing good times with friends. See you there soon.
Wild Earth Wines
Born from the rugged Central Otago landscape, Wild Earth embraces New Zealand pioneering spirit. Our production methods are an honest expression of the land and our unique food & wine experience remains true to its roots in this welcoming country. We live for the journey, sharing stories that enrich lives, making new friends along the way. Our creativity drives us forward and we strive to be an inspiration to everyone who knows us.